Exploring the Microweber Website Builder
18 Oct 2023
In the dynamic world of web development and design, having a powerful website builder at your disposal can make all the difference. Microweber, an innovative and user-friendly website builder, has emerged as a strong contender in the industry. With a range of remarkable features, it empowers users to create professional websites with ease. In this article, we'll take a closer look at some of the best features that make Microweber stand out from the crowd.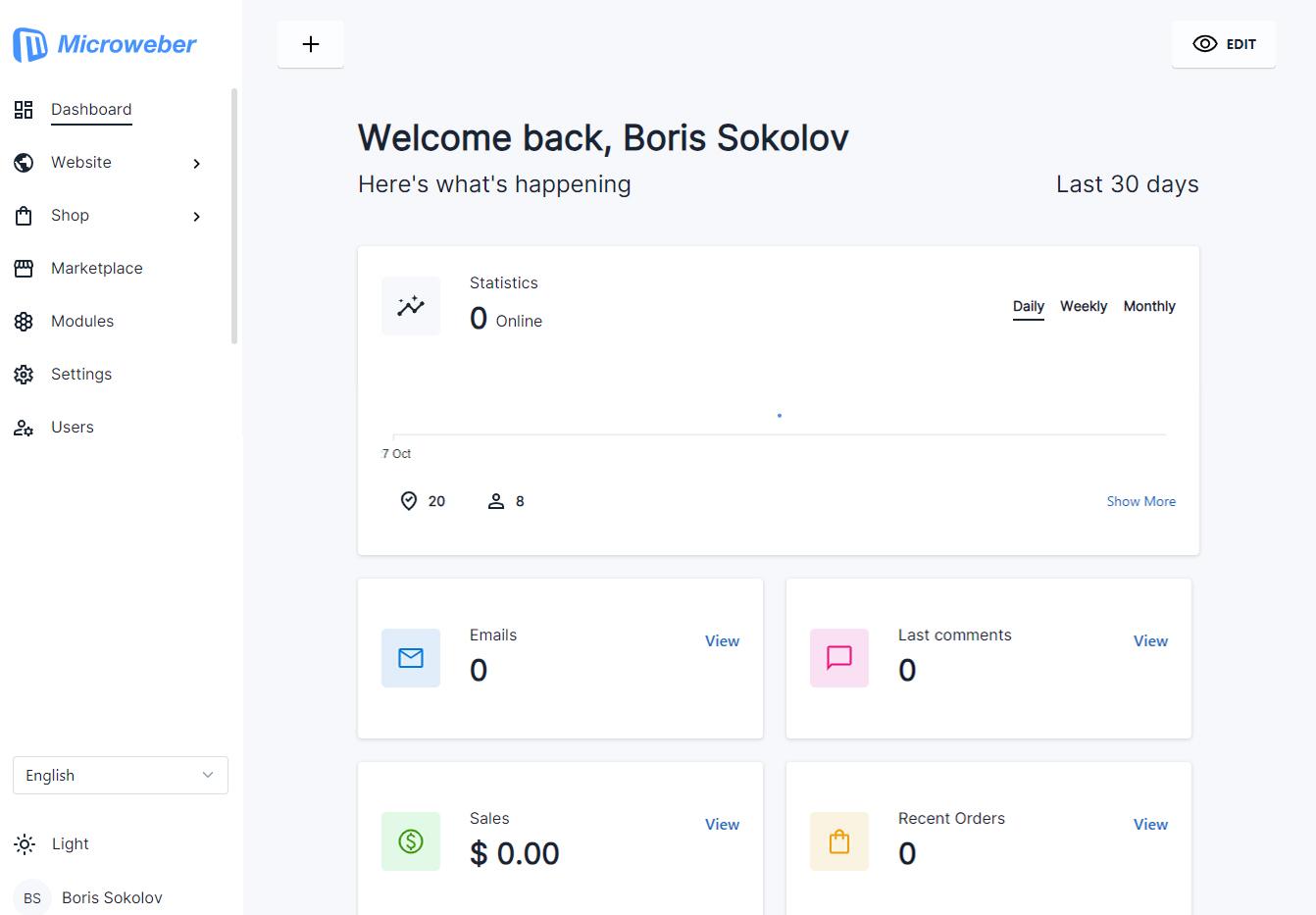 1. Drag-and-Drop Website Building
One of the standout features of Microweber is its intuitive, drag-and-drop website building interface. You don't need to be a coding expert to create a stunning website. Microweber's simple and user-friendly design allows you to add, edit, and arrange elements effortlessly. Whether you're a seasoned web designer or a novice, you'll appreciate the ease with which you can bring your ideas to life.
2. E-commerce Capabilities
Microweber doesn't just help you create static websites; it's also equipped with robust e-commerce features. You can set up an online store, manage products, and accept payments without the need for additional plugins or complex integrations. This makes Microweber an excellent choice for businesses looking to establish an online presence or expand their e-commerce operations.
3. Built-In Blogging Platform
Blogging is an integral part of many websites, and Microweber recognizes this. It includes a built-in blogging platform that allows you to publish and manage articles, engage with your audience, and boost your website's SEO. The blogging tool is user-friendly and comes with features like categories, tags, and social media sharing, making it a breeze to connect with your target audience.
4. Customization and Templates
Microweber offers a wide range of customizable templates, ensuring your website reflects your unique brand identity. Whether you're a small business, a freelancer, or an individual blogger, you'll find templates to suit your needs. Plus, these templates are fully responsive, so your website will look great on any device.
5. Multilingual Support
In today's globalized world, multilingual support is crucial for reaching a diverse audience. Microweber makes it easy to create a website in multiple languages. You can manage content in various languages, allowing your website to cater to a broader and more international audience.
6. SEO-Friendly Features
Microweber understands the importance of search engine optimization (SEO) for online success. It comes with built-in SEO features, such as meta tags, alt text for images, and URL optimization. This ensures that your website is search engine-friendly, making it easier for your target audience to find you.
7. User and Role Management
Collaboration is made simple with Microweber's user and role management system. You can assign different roles and permissions to team members or clients, allowing them to work on specific aspects of the website without compromising security.
8. Extensive Add-Ons and Integrations
Microweber's capabilities extend beyond its core features. You can enhance your website further by integrating various add-ons and third-party services. Whether you need analytics, social media sharing, or email marketing tools, Microweber provides the flexibility to add these features seamlessly.
9. User Support and Community
Microweber's commitment to its users is evident through its strong support and community engagement. You can find tutorials, documentation, and a supportive online community to help you with any questions or issues you may encounter during your website-building journey.
10. Cost-Effective Solution
Last but not least, Microweber offers a cost-effective solution for website development. It provides a free, open-source version, and affordable premium plans for those who require additional features and support. This makes it an attractive choice for individuals and businesses looking for value in their website builder.
In conclusion, Microweber is a feature-rich website builder that simplifies the process of creating a website or an online store. With its intuitive interface, e-commerce capabilities, built-in blogging, and support for multilingual content, Microweber stands out as a versatile and user-friendly option for web development. Whether you're a beginner or an experienced designer, Microweber's powerful features can help you achieve your online goals efficiently and effectively.