E-commerce features
A full e-commerce solution for online business, create your online store with Microweber.
Online Store Builder
A full online store builder is included by default and comes for FREE. Upload your products and manage orders, customers, and much more!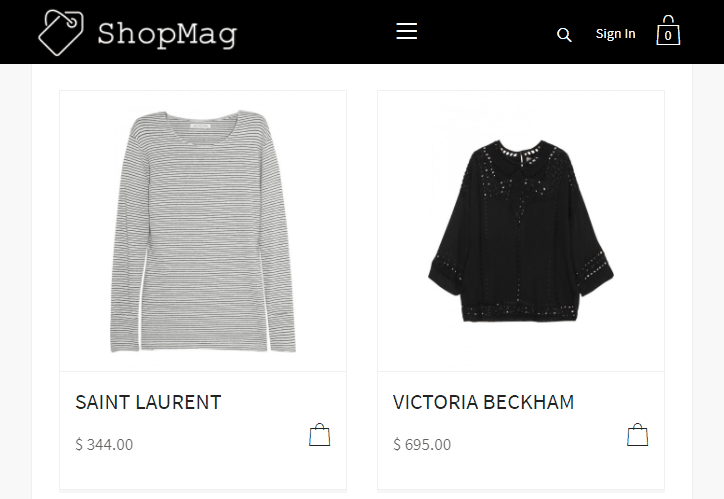 Create an online store with Microweber - the easiest and most intuitive website builder will help you start selling your products from day one! 


E-commerce is one of the core features of Microweber CMS. 
Our software has built-in features that help online store owners see their business grow and excel.
Creating your own online store is very easy. First, you need to choose one of our beautiful templates. Don't worry if you don't have your own server to host your online store - you can always buy hosting from Microweber.com  Now that you already have a template and hosting secured, you are ready to add your products, set their prices and start selling and shipping them to your customers.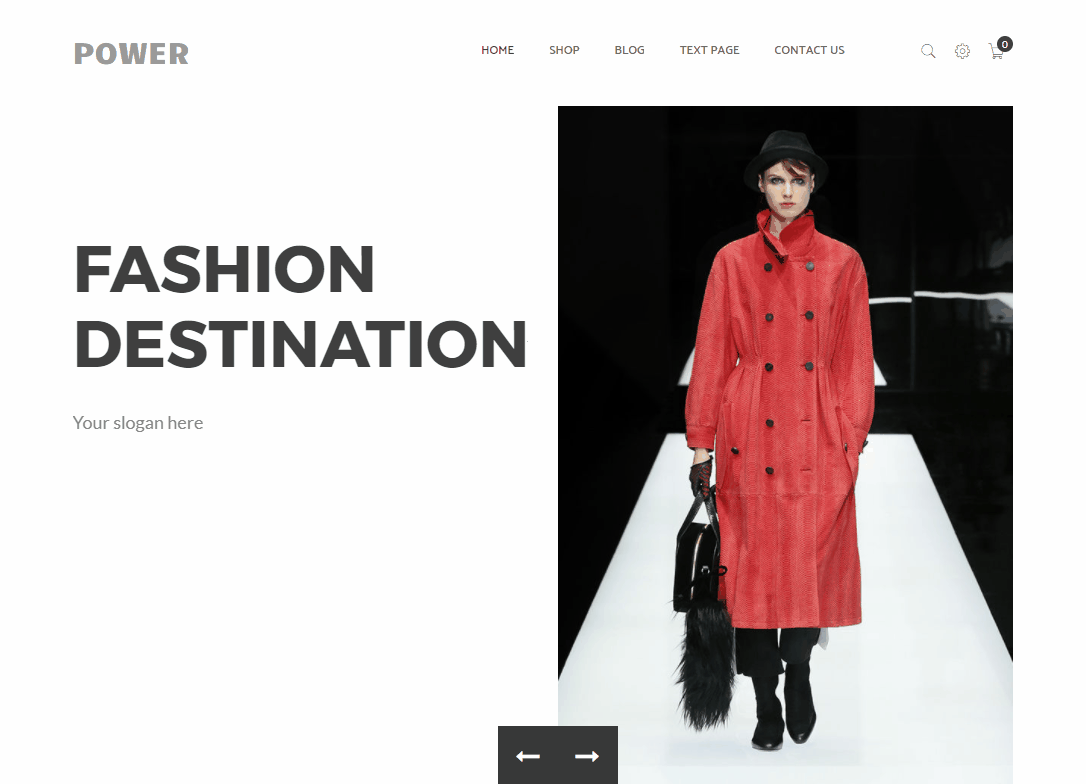 Аccept Payments and Automatic E-mail
Your customers may have different types of payment methods and it's only logical for you to have different types of accepted payments. Choose your range of accepted payments and set the currency your online shop will use. It can be dollars or euro, pounds or one of the hundredths of other currencies across the globe. We ensure you have the freedom of choice which you will utilize to the fullest.
There are few payment providers available now as we are working on the integration of more payment providers. For now Microweber support: Paypal, Authorize.net, Stripe, Mollie, Prelewy24, VoguePay, Payza and others...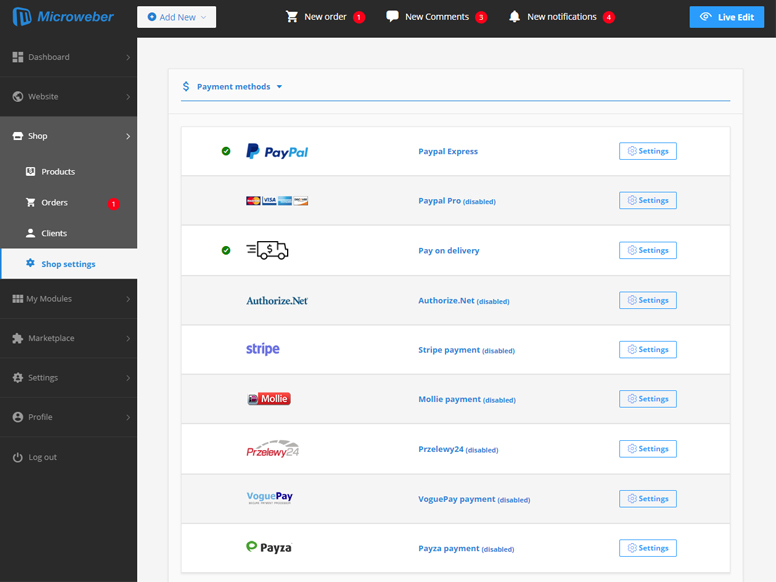 Automatic order e-mail
Developing a good relationship with your customers and creating a customer community is crucial for your business. Sending an e-mail to people purchasing from your online shop may seem like a small and unimportant part of the experience, but it's not. Craft your perfect automated e-mail on your quest towards building an audience. Or, if you prefer, disable automated e-mails to your customers.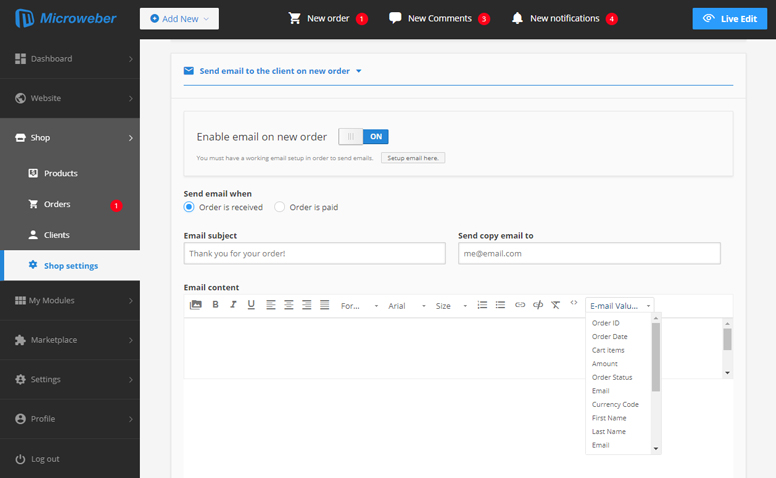 Shipping Options
You can take care of the price for shipping of your orders. This is how the shipping options functionality looks like. There is a select country option, Shipping price and discounts for orders and total cost.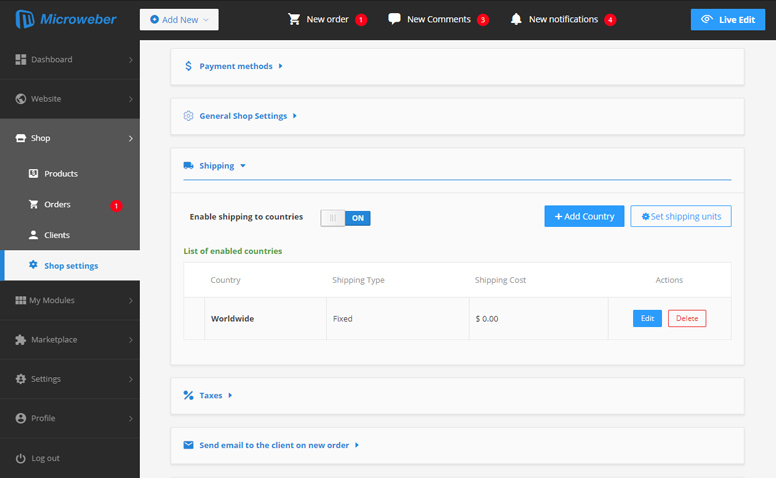 You can also set up different measuring units. You are able to choose between units for weight - kilograms (kg) or pounds (lb) and also units for size - centimeters (cm) or inches (in). 

The most exciting thing is that you can set different options for each country once and support
orders from all over the world. The best part is that using Microweber API you also can connect different shipping providers to your CMS and use them automatically.
Custom Fields
Using the custom fields module, you can define the exact parameters of your products. Those are like sizes, colors, height, numbers of pills for examples or numbers of red roses. It's a depends on , what exactly you want to show the client to order.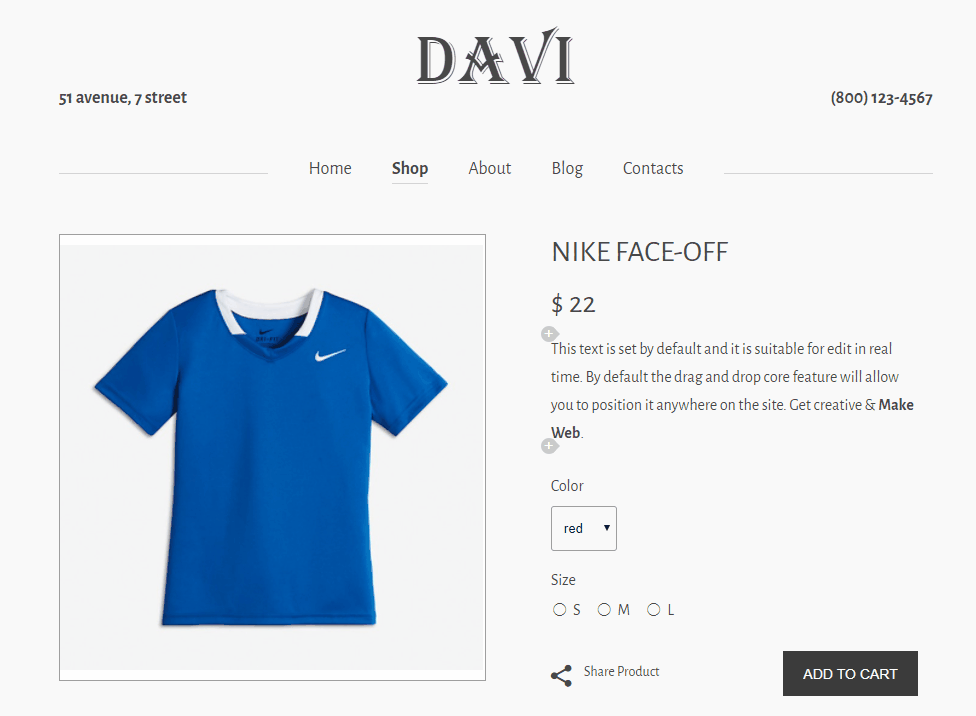 The best part is that you can use them for many other things, and they are universal 
For example, you can create forms with fields and use them for your needs. There is a different type available now like: Text field, Numbers type, Price, Checkbox, Dropdown, Radio Buttons, Upload files and more.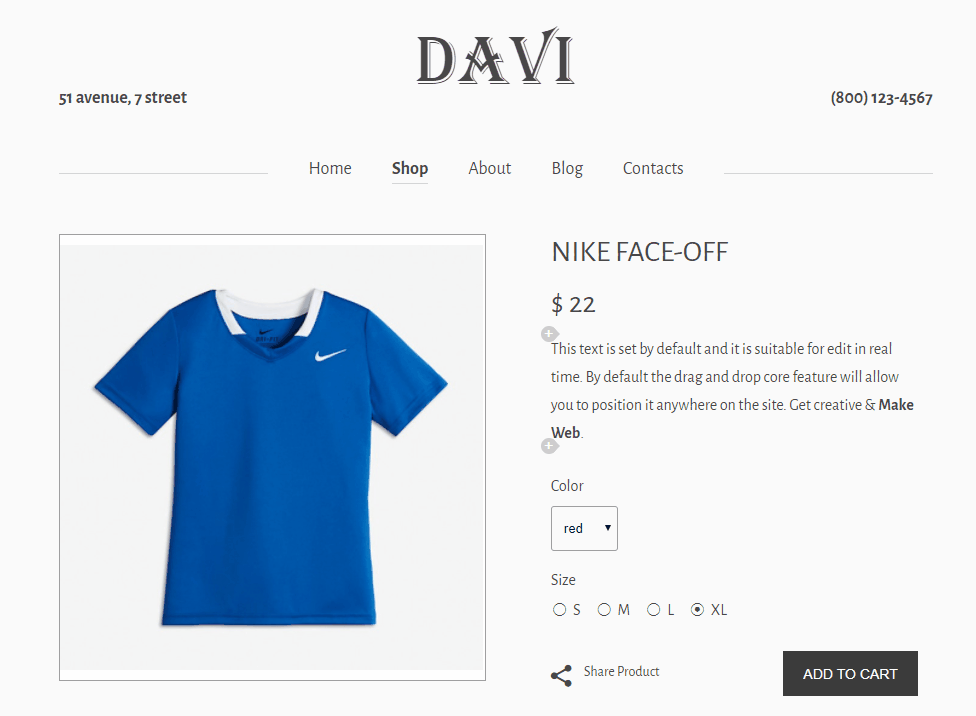 Login with Social Networks
You can use Social Login module for registration with social networks. Facebook, Google Plus, Github, LinkedIn, and Microweber login are available for now, which is more than enough.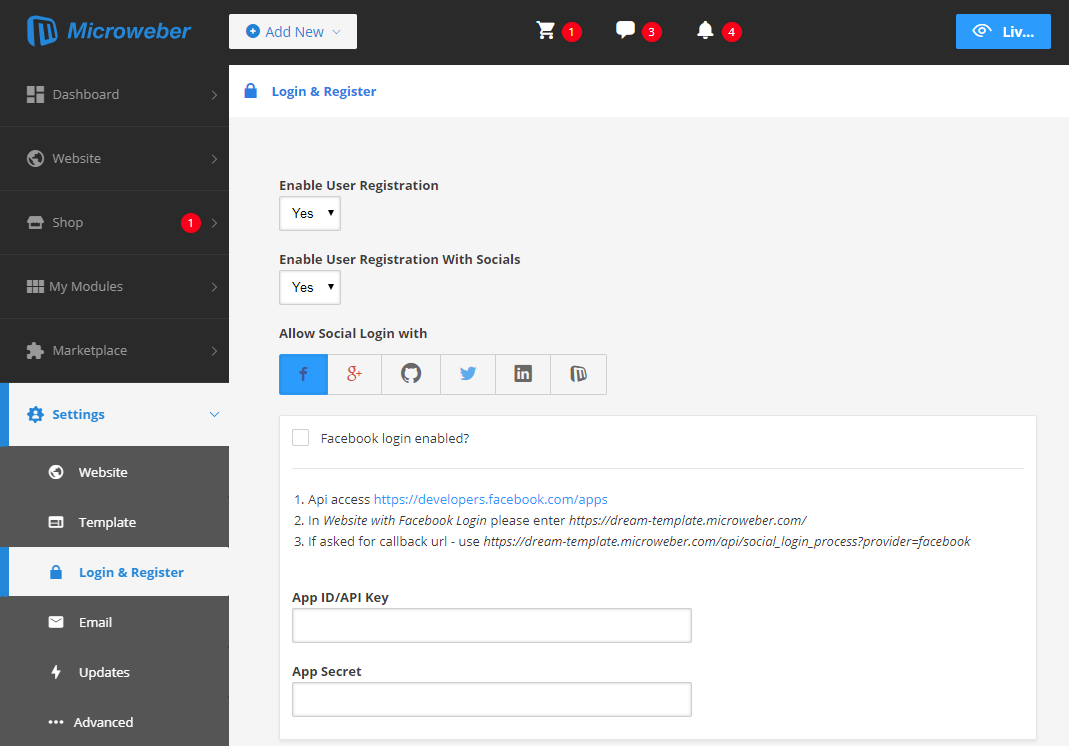 You will need to connect your App ID/API Key and App Secret to connect network.


Managing and Track orders
This is one of the most important features of the Microweber Website Builder and CMS. Each of you who have online shop knows that this is the most used page in the whole system. If your online store is successful then you probably spend most of the time online to tracking your orders. 

Here is what we have here. First, this is your orders list. You can find it in your online in the admin section

Orders List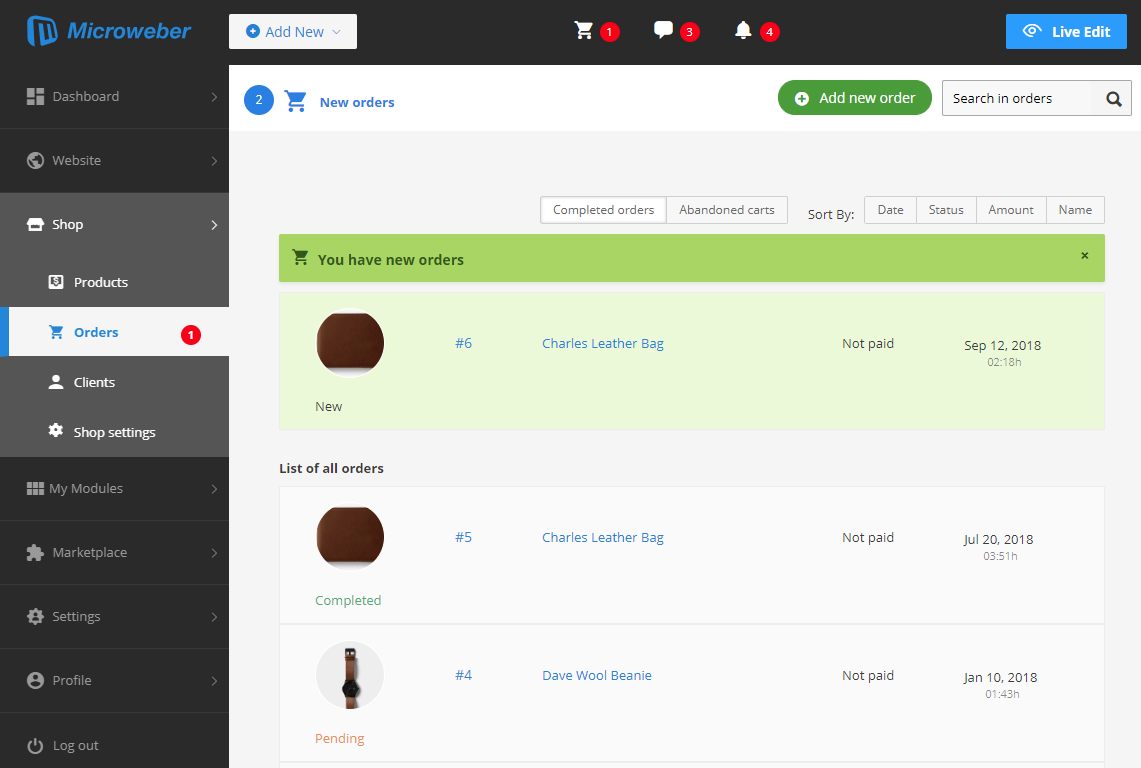 Here you have basic information of your order, only the amount of the order, name of the client and e-mail address, also number of order and data order. You can proceed to the full order detail by clicking on the black button See order.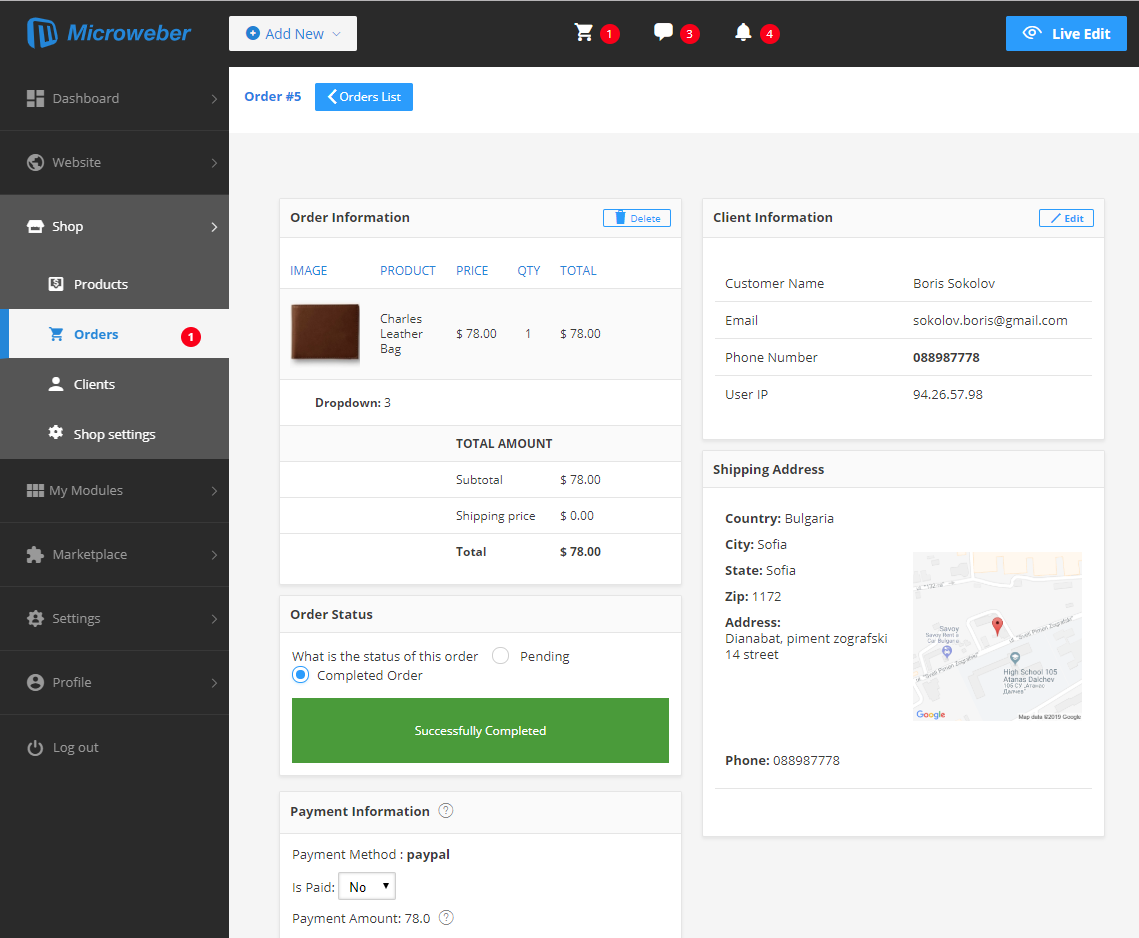 There is much more information here like the exact address for shipping and details for the order.

In this examples Microweber CMS work perfectly in 9 languages, this online shop is in Bulgaria on the screenshots, but the functionalities have the same look on other languages.
You also have payment status and order status. When you receive your payment the payment status will be YES and after you finish with the shipping you can switch this order to status: Completed.

This way you will always see the new orders first. 
Set Currencies
From your store listing, in the Microweber admin panel, you can specify the currency with which payments will be made. These settings are in "General Shop Settings" tab.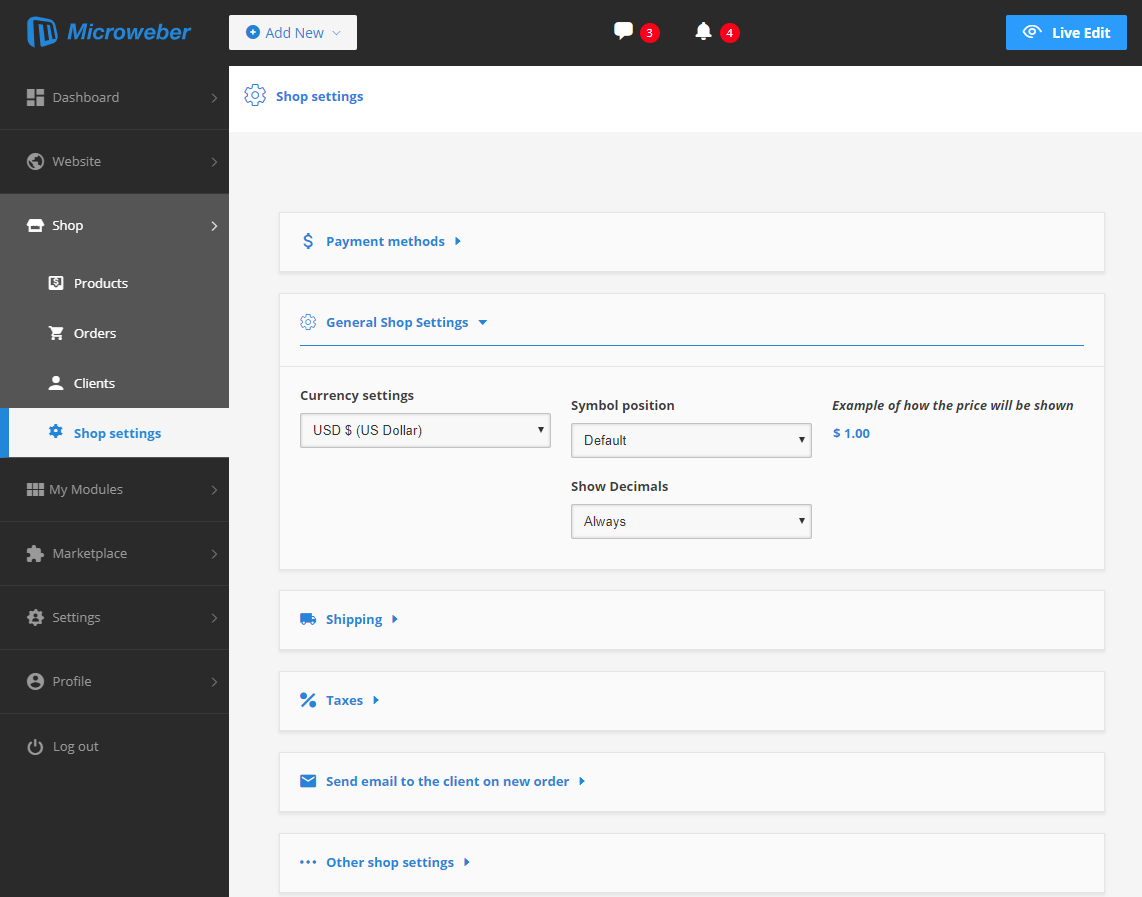 Set Taxes

Set your country taxes from the taxes tab in the shop settings in your admin.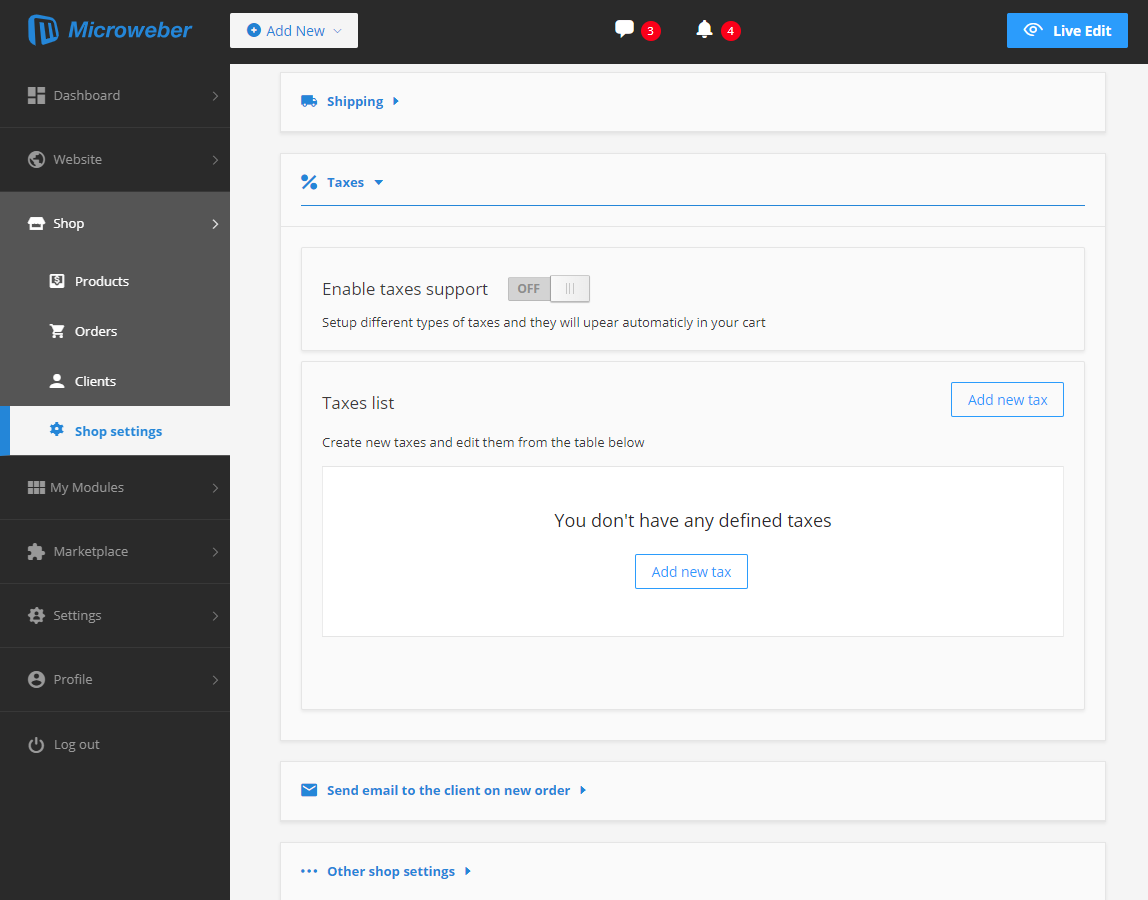 Automatic Invoicing
We are working to release the Invoice settings in the next version of Microweber.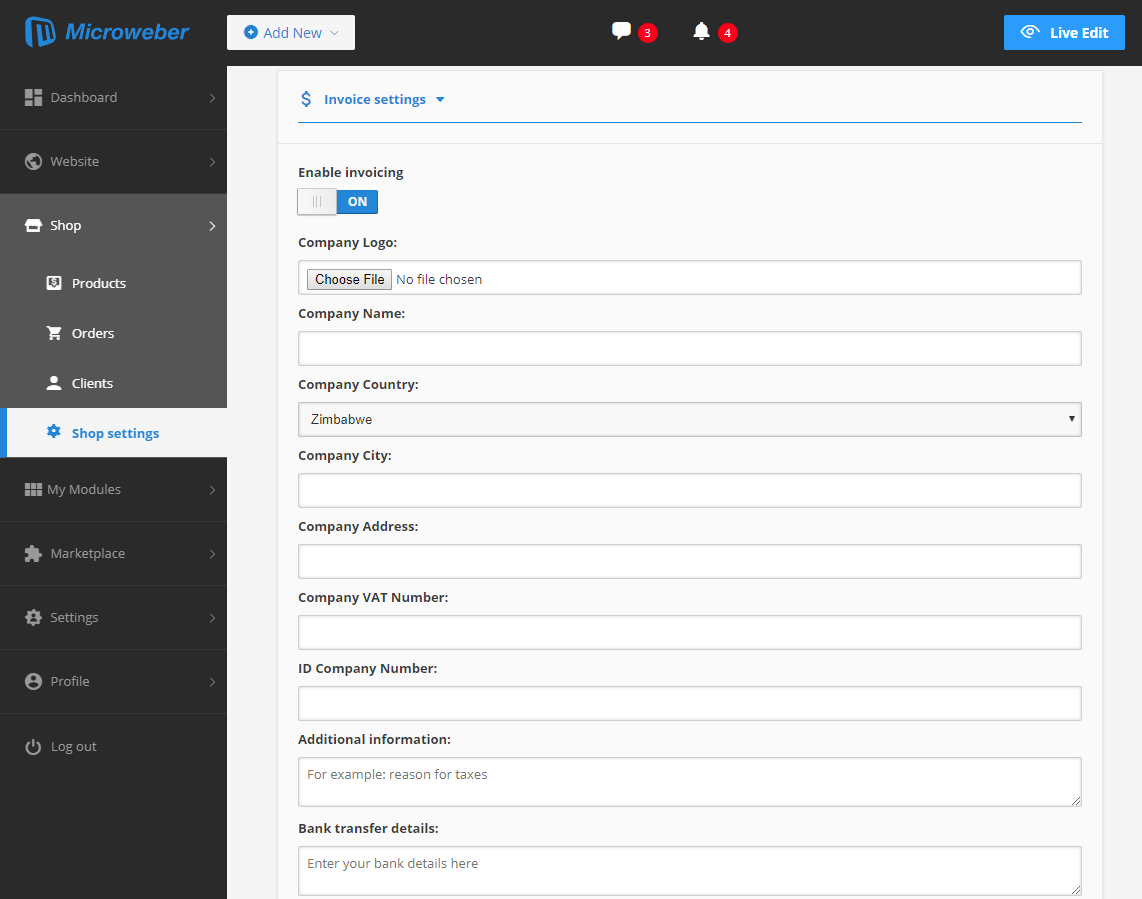 Learn more of how to set up your online store with Microweber and start selling in our Microweber Academy.
What do you think about this article? Please rate it bellow.
Оther features you may be interested in: